IRIS is known for eye appealing, durable, and functional storage solutions that fit into a wide variety of your daily activities. While you may be unfamiliar with the brand name now, once you've experienced their high quality items you're likely to find yourself a customer for life. IRIS excels in the following areas: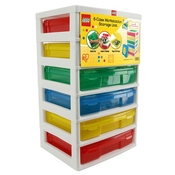 The LEGO Line from IRIS includes the Lego Project Workstation which has been one of our top-selling products since the 2010 holiday season.The familiar characters and ease of use help engage kids in the process of cleaning up and putting away their toys as well as adding fun and lively decoration to a child's play area.
If you're a crafter, a scrapbooker in particular, you may already have some IRIS items in your craft room. Their line of archival safe and acid free photo and paper storage products keep memories safe from environmental concerns and organize your projects for easy access. The grown up version of the LEGO project workstation is a great way to plan out your next scrapbooking projects so you can grab one project at a time when it's time to craft.
Pets are a specialty at IRIS too – whether it's pet food storage containers, feeders, or even small animal carriers, IRIS has an innovative solution that makes life easier. Pet food containers keep food fresh longer and make it easier to dispense or travel, while the pet carriers from IRIS make standard carriers seem archaic with their number of unique features. Shop pet products.

With custom storage cases for photographs and crafting papers, the IRIS line is a photo enthusiast's solution.
Around the house IRIS has a sturdy, quality storage box to fit every storage need. Containers feature a range of sturdy clips and handles, strong hinges, easy gliding drawers and even wheels that will protect whatever you need to store away. Choose clear view plastic so you can take quick inventory of the contents, or spice it up with fun colors that help you organize by theme or season. See storage box choices.

If you need to build a storage system or recycling center in your garage or mudroom, rugged storage bins from IRIS make it easy. Each bin system stacks together and has a wide opening on one side to make it easy to access items without moving individual bins.
If you haven't tried IRIS products yet, we encourage you to give them a try.